Daniel Melendez, Main writer and owner of VirusSnaps.com
Daniel Melendez is the main writer and the owner of VirusSnaps.com. Daniel writes all of the newest Call Of Duty news articles on all of the VirusSnaps social media accounts as he is the social media manager. He is also a contributor to designing and coding VirusSnaps.com.
Check Out All Of Daniel's Articles And Tweets!
Feel Free To Donate (All Donations Are Greatly Appreciated :))
Latest Call Of Duty Articles
Powered by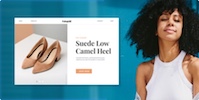 Create your own unique website with customizable templates.